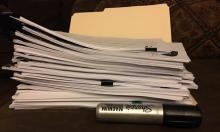 The Yellow Springs Police Department and Fraud
This writer attended Greenon High School and fondly remembers sitting in Advanced Government 101, learning about the federal, state, and local levels of government. He knew all the townships, villages, and cities of Clark County. He learned everything about the executive, legislative, and judicial branches.
The writer also remembers his government teacher being arrested for embezzling tens of thousands of dollars and later pleading guilty.[1][2]