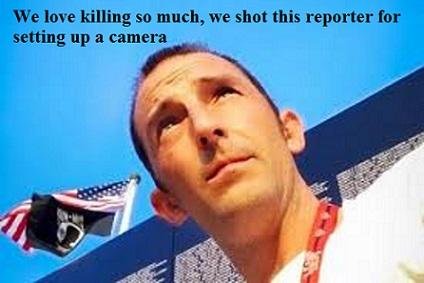 Imagine going to work one day, a day like any other. You see someone you've seen before and you start to do the things you do every time. You take the equipment you use every time out of your car, start to set up and then....Then he shoots you twice. Once in the chest and once in the gut. You barely survive, you spend all night in surgery. While the team of doctors work feverishly to stop the bleeding in your internal organs someone with a stolen passwords illegally downloads your medical history up until that moment and leaves with it. When you want answers, the local police do whatever they can to crush your business so that neither you nor they will ever pay your suddenly huge medical bills.
Such a thing would be incredible, hard to imagine, hard to believe, but in America, here in Ohio this a glimpse into normal. This happened to New Carlisle News Reporter Andy Grimm while he was filming a routine traffic stop on a main street in his home town, like he did every day until his catastrophic wounding.
Clark County Sheriff's Deputy Jacob Shaw normally worked in the jail rather than traffic duty in the small town of New Carlisle. He had not been properly trained for the street. According to court papers his normal 13 weeks of field training had not been completed. It had also been over a year since he completed his mandatory re-testing for safety, procedures and marksmanship.
Shaw saw Grimm get out of his car, wave, begin to set up his tripod, and then blew him away without even getting out of his cruiser. Body camera footage shows him claiming he thought the tripod was a rifle. What is not clear is the name of the fantasy universe in which Shaw lives that police officers get attack with rifles that take two minutes to set up by third parties they see every day in quiet towns with under 6,000 in population. One would totally question the wisdom of inviting him to a Halloween party...The blood wont be fake for long.
It is clear that the Clark County Sheriff's office is going stand behind their officer while blaming and then attacking the victim. There has not been much coverage of this 2017 incident or the resultant court cases, both civil and legal, outside of the immediate area. The Seattle Times ran a story on the Grand Jury, not returning incidents on the four counts that were brought against Shaw in April, and another that interviewed every officer that had ever seen him circle a news event looking for parking. Unless there was aggressive PR marketing the police version of events to major west coast outlets that can't find Springfield Ohio without looking a map relationship to Columbus, there seems to be no reason why they would bother with an out of market story at all.
The New Carlisle News' parent company KBA LLC, which runs a chain of similar small advertising and subscription driven publications, is suing alongside Grimm and his wife Melanie. The suit alleges the Clark County Sheriff since retaliated by not sending press releases and otherwise interfering with the publication's ability to do his job. These are orders directly given by Burchett. Excerpt from the evidence given in Grimm's suit below:

With an "ongoing investigation" by Mike DeWine's BCCI, it is doubtful that Grimm will find justice in the county or state courts. He has brought suit in federal court. Neither KBA LLC nor Grimm's attorneys returned calls for content by the time of publication. The calls however were on short notice. The full text of Grimm's court complaint can be downloaded from the link below.
Associated Documents:

grimm amended.pdf