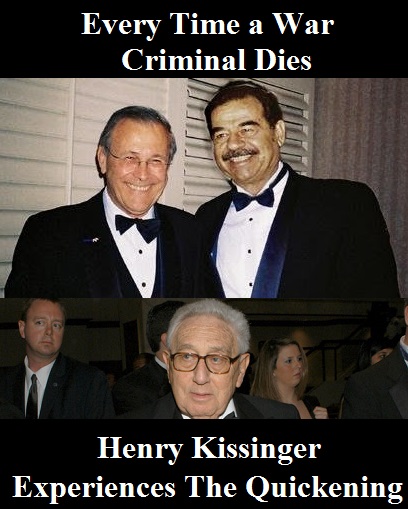 On June 29th, 2021 there was a loud splash in a sewage retention pond in hell as former Secretary of Defense and serial war criminal Donald Rumsfeld escaped justice for his countless crimes against humanity by transferring his employment to Hades. There he will join the founder of IKEA as a celebrity judge of the elevator music competition on the popular show Hell's Got Talent. His eternal job as a refiner of elevator music is a fitting capstone to his career as one of the most prolific liars and war criminals that American society has ever produced, placing him in nearly the same tier as his colleague and sometimes rival for Richard Nixon's affection, former Playgirl centerfold and self-described swinger Henry Kissinger.
Like all good American war criminals young Donald began his career in the
pedophile paramilitary Boy Scouts of America. He was awarded the group's highest lifetime honor, the Silver Bison in 2006. As an oligarch and team player, he never spoke out against the over 100,000 reported cases of child sexual abuse that eventually bankrupted the organization in 2020 despite rampant rape of children being repeatedly reported in the media since at least 1988.
Rumsfeld attended Princeton University on an NROTC scholarship. He followed this with his mandatory 3 years in the Naval Reserves before becoming and individual reservist until his "retirement" in 1989. During this time he managed to attend and drop out of law school at both Case Western and Georgetown, both also being financed by the GI Bill.
In 1962 he transitioned from being a military and student welfare queen to a different nipple for his government breast milk as a staffer for two different Republican Congressmen before ascending to Congress himself. He inserted himself into the safe Illinois 13th district which had not elected a Democrat since 1895 nor since.
He used his time at this section of the public trough to promote the career of future alcoholic one term president and Nixon enabler Gerald Ford, who would go on to reward him with being Secretary of Defense in 1973. He also was critical of the Johnson administration's inability to kill the other 90% of the population of Vietnam in order to free them from the tyranny of Communism.
Rumsfeld moved from the Capitol Building to the Whitehouse with the election of Nixon in 1969. There he was put in charge of administering and undermining Johnson's Great Society programs as Director of the Office of Economic Opportunity. There he elevated the careers of fellow war criminals Frank Carlucci and Dick Cheney.
He became a special Presidential advisor and won praise from both his boss Nixon, "He's a ruthless little bastard. You can be sure of that.", and his sometimes rival Henry Kissinger. "a special Washington phenomenon: the skilled full-time politician-bureaucrat in whom ambition, ability, and substance fuse seamlessly".
He survived the end of Nixon and went on to be Ford's Chief of Whitehouse Staff before becoming Secretary of Defense.
He got his first full time private sector job in 1977 as head of the pharmaceutical giant G.D.Searle corporation and eventually became chairman of it's board until it's absorption by Monsanto. [Disclosure: This author worked for the G.D.Searle division of Monsanto in 1996 for 6 weeks doing next to nothing as slowly as possible before being fired in time to protest the 1996 DNC in Chicago]
While at G.D. Searle, Rumsfeld also served as Special Envoy to Iraq for President Reagen in 1983. According to Newsweek, it was during this time that Saddam Hussein regime acquired the biological building blocks of weapons of mass destruction, including anthrax, from the United States to use in the former's war against Iran.
He returned to government service after 13 years in the Pharmaceutical and Broadband Industries as Secretary of Defense to George W. Bush in 2001 where he began his lies in order to start the Iraq war within hours of the 9-11 attacks. Using his knowledge, as he had been key as both a public servant and private profiteer, he was key in propagating the fiction that Saddam Hussein's regime was in possession of weapons of mass destruction.
The resultant war killed millions through direct and indirect causes and is a major direct cause of regional instability and death to this very day. In folding the Iraq war into the Afghanistan war into the global war on terror (terror in this context means non-white people), Rumsfeld authored a memo permitting the use of torture on detained civilians in undeclared wars, part of which can be seen below: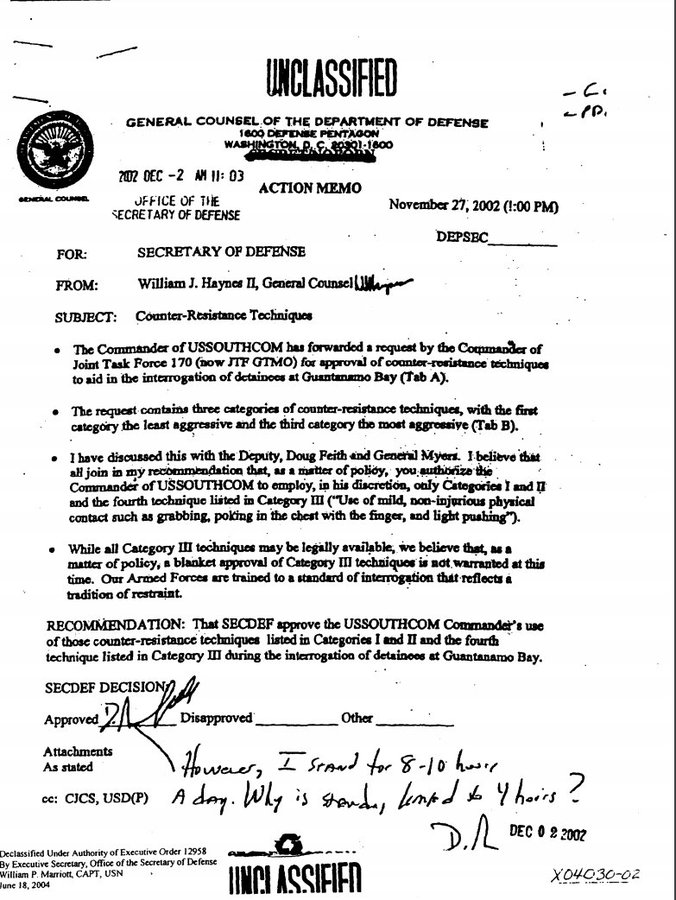 After his service to the nation he retired to write a self-serving memoir and died in after an unjustly short and painless illness after quality receiving health care he worked years to deny nearly every other human being under America's thumb. The location of the gender neutral bathroom that will serve as the permanent resting place for his bones has not been released to the public, at whose expense he rose to be one of the best war criminals of his generation.