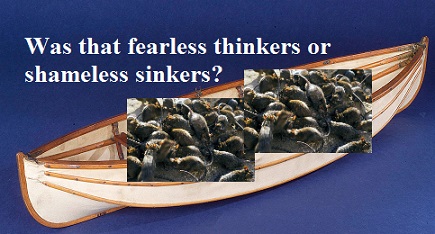 In the wake of repeated sexual assault allegations (including one involving several students), a failed school levy backed by semi-legal campaign financing, and a SLAPP suit against a former employee that is destined for failure, the leadership of the Yellow Springs school system appears to be in fractured dissarray. In the wake of a historic landslide defeat for a school levy that would have raised the tax rate to stratospheric heights, both of the Principals in the system are selling their homes and leaving town. Tim Krier, High School and Junior High School the father of accused serial rapist Noah Krier, and Matt Housh, elementary school Principal and brother of Village Council President Brian Housh are leaving the village for uncharted horizons to exploit. They are being joined in their exodus by school board member Sean Creighton.
At first glance the unnanounced moves made right before the school year ends would seem to be an effort to take the shame of the first failed school levy in living memory and go, but this is not the case. Property records indicate that Matt Housh closed the sale and signed the deed for his new home in the posh Dayton suburb of Oakwood on May 4th, a full four days before the levy vote. The real estate deal did not have the earmarks of a fire sale like the yard sales and house tours Tim Krier was offering all last week. Indeed the timing makes it clear that Matt Housh always intended to saddle the school system that pays his handsome salary with a tax increase that he planned to avoid.
Despite being Village Council President and holding the post of "School Board Liason", his brother Brian did not seem upset this little bit of family real estate planning. Councilman Housh was photographed this morning at the moving truck helping his brother load up for greener pastures to graze in.
Although property has not changed hands yet according to the Franklin County Auditor's office, Tim Krier is also moving, and renovating his current home without a posted building permit. Likely he will be moving to Columbus, where he was previously employed in the school system and where his wife, Kim Gillie Krier, is a social worker and yoga teacher at the Center for Balanced Living.
Photographic evidence, pictured below, proves that School Board Member Creighton is selling his 602 Wright Street home and moving faster than aaxx, Trullia, and Zillow can list the property. According to sources, he was convinced by superintendant Mario Basora to delay the sale of his home until after the levy vote. This would be a third case of someone investing time and sweat equity into a levy, and then leaving town before the consequences hit (their) home.
The contractual and electoral consequences of the School System's great real estate sale of 2018 are not yet clear. Tim Krier remains under contract and on medical leave for some unspecified reasons. His contract, and his leave, continue into the new school year. Housh's contract remains in effect and he also remains employed. Creighton has not resigned his school board post nor his respondsiblities to the levy committee, which recently had a secret dinner meeting to craft a new levy plan to ram through. The Mockingbird will continue to document these hands as their fingers fiddle in the pockets of Yellow Springs from afar.