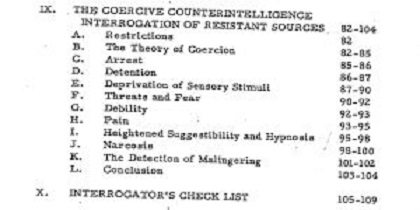 As a warning to the reader, some of the subject matter contained here is not going to easy on the sensibilities because it deals with technical details torture and how it relates to the reality of campus community life at OSU and other public universities in Ohio. It is now a well known fact that the military and the CIA have openly used torture in the so-called war on terror. The national dialogue centers on if this or that particular technique used to gain compliance is torture based on the "severe bodily harm" loophole in definitions written decades and centuries ago.
The model for what is done is based on the military's Survival Evasion Resistance and Escape (SERE) training for pilots, special forces personnel, and spies. It is taught in order have soldiers and spies not get caught and not give up military secrets if they are caught. Some of the training is simply intensive wilderness survival and light infantry training. The resistance portion is based on the so-called mind control and torture techniques designed by the CIA in the 1950s and 1960s and was built into the KUBARK Counterintelligence Interrogation manual first printed in 1963 and used to train Latin American Death Squads.
SERE instructors and army behavioral scientists reversed engineered torture out of this for use by the Behavioral Science Consultation Teams at Guantanamo Bay, Bagram Air Base, in the sprawling prison system of occupied Iraq and at CIA black sites around the world. The way the operation worked was typical of 21st century military intelligence organization. Some SERE instructors left the program, formed private corporations and then sold their knowledge back to the CIA and military while other remained in uniform and worked alongside them. Some of the worst examples of both have a direct impact on and connection to higher education and that connection and the protection it offers is in part a result of the work of Congresswoman Joyce Beatty.
One of the lead torturers, Dr. Larry C. James (US Army Colonel ret.), wrote a book on how he made the torture regime at Guantanamo more humane by focusing on more on the psychological rather than physical to induce "learned helplessness." He titled the book Fixing Hell. His offical title was head of the Behavioral Sciences Consultation Team. He is now Dean of the school of Professional Psychology at Wright State. Attempted to hold him professionally acountable through the state licensing board, the Ohio Psychological Association, the association refused to investigate.
The Ohio Psychological Association is the statewide arm of the American Psychological Association. Activist members of the Association tried for years to force it to come out officially against mental health professionals assisting or participating in torture and were blocked by national board. That Board included Larry C. James during some of the controversy. He kept his conduct legal through controlling the definitions and mechanisms accountability.
When Larry C. James was sued, the case came before Joyce Beatty's step-daughter, Laurel Beatty, who is a Franklin County Judge. She used a legal maneuver to kill the case. Joyce Beatty received her masters from the very same school that Larry C. James now heads.
In her capacity as a vice-president in the OSU system and Wright State alumnae, Joyce Beatty co-chaired a $100 a plate black-tie fundraiser for the School of Professional Psychology with Larry James. Joyce Beatty was apparently untroubled by co-chairing this function with James, which was a celebration of the 30th anniversary of the founding of the school. At this fund-raising gala, James announced a partnership between his school, the city of Dayton and Wright-Dunbar Inc., a non-profit development corporation of which he is a trustee, to carry out extensive development in the Wright-Dunbar neighborhood.
On January 13, 2013, the Dayton Business Journal carried a story that this three-way partnership had born fruit. Wright-State and the City of Dayton had each contributed $500,000 to the project that will be matched by $3 million in federal funds to renovate properties in order to provide three new mental health clinics operated by Wright State. These clinics are to serve as an anchor for further economic development in the neighborhood. The Wright State School of Professional Psychology's major location is in the Wright-Dunbar neighborhood.
Wright State and Wright-Dunbar are not the only entities interested in development in that Dayton neighborhood. Joyce Beatty, along with her lawyer-lobbyist husband Otto Beatty, founded a for-profit entity called the 404 West First Street Community Urban Redevelopment Company in Dayton. 404 West First Street is the location of a park right across the river from the Wright-Dunbar neighborhood.
Other SERE instructors alumni took a different route to black site archipelago. James Mitchell and John "Bruce" Jessen formed Mitchell Jessen Associates to re-market their expertise back to the CIA for a cool $81 million. While the company worked alongside BSCT all over the world, the CIA was not happy about something, and the company later became embroiled in a lawsuit which ended with them receiving millions less, but still millions.
Mitchell Jessen Associates later dissolved. One of the principals of the company was Randy Spivey, who was also a military SERE instructor. He founded another company during the time that Mitchell Jessen Associates operated called the Center for Personal Protection and Safety (CPPS). CPPS initially occupied the same offices as Mitchell Jessen. They are a badly concealed re-branding effort with a slightly different business focus.
CPPS designs programs to help large organizations deal with workplace violence. This includes training on active shooter responses. They have been filming and updating active shooter videos on OSU for use by OSU staff and students since 2008. At that time Joyce Beatty was Vice President of OSU for development and outreach. There is no way she was not involved in the selection of an outside agency for such a task.
In addition to active shooter training, CPPS trains and assists both OSU and Columbus State Community College in what they call threat assessment and threat management. Although it is packaged with active shooter training it extends beyond that to asses any threat. CPPS business includes training corporate executives for kidnap resistance overseas. They see all threats from an inherently political perspective.
In short there is a direct line between student psychological records, campus police, campus planning and a man who has made millions of of torturing people for the CIA. His worldview informs policy and again Joyce Beatty, both as an education official and as an elected representative, was and is instrumental in promoting his wealth and power as she has quietly done before for her torture profiteer co-workers.
Both Wright State and OSU are public universities beholden to the Ohio Board of Regents whom Joyce Beatty directly served at the pleasure of during all the time torturers spent. entrenching themselves in them. Both Larry C. James and Randy Spivey have extended their torture knowledge into wider community control at the local level throughout Ohio.They have both grown wealthy from this and Joyce Beatty has profited from facilitating both.