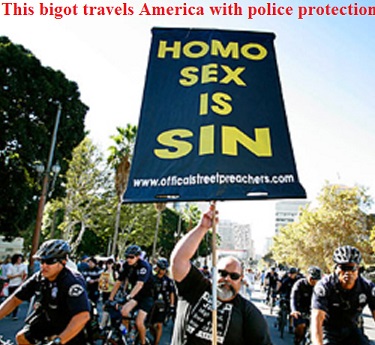 On Thursday September 15h I turned the corner and found a surprise. A bunch of bigots protesting against one of the largest Mosques in the area. They were allegeded Christians from a group called officialstreetpreachers.com. They turned out to be the worst most hateful bigots I have heard in a while. The group's rental van was from Pennsylvania, some of their members were from Cincinatti and some from California.
They seemed confused. They were happy that liberals were no longer in charge now that Trump is President, but their banners claimed Trump would burn in hell with all liberals. No Church but their own was safe from the wrath of their tounges, and they screamed in every face they could with police protection for over two hours.
The group berated those that came and went from two services at the Mosque, both those leaving in vehicles and those who lived closer and left on foot. They harrassed people on the sidewalk going from their place of worship to their homes. Anyone doing anything other than passively receiving their venom was told to back off by Columbus Police.
Interfaith leaders from several groups mobilized as quickly as they could to spread a message of love and to be physically present in solidarity and support. For several hours between the coming and going of those who were there to pray at the Mosque they bore the brunt of the abuse.
I'll let the video included speak for itself. I'm too disgusted to give this more words.