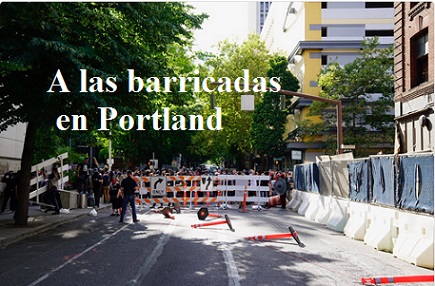 Two days after Portland Police provided background support to Department of Homeland Security riot police to dismantle the blockade by the Occupy ICE movement a fascist group marched. The June 30th march by Patriot Prayer had a permit and was by design in opposition to the nationwide #familiesbelongtogether rallies organized by affiliates of the Democratic Party. The leader and founder of Patriot Prayer, Joey Gibson, is a Republican Candidate for the United States Senate in Washington State. Many of his supporters were bused in from Washington under police protection.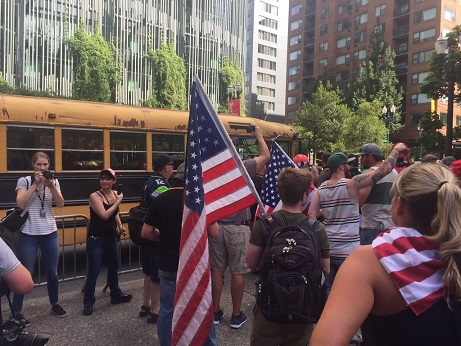 There was a brief rally where speakers openly called for attacks on leftists in explicit support of Donald Trump's new concentration camps. The recent wave of opposition to children being kidnapped for private profit as well as a new archipelago of military prisons for refugees has sparked nationwide protests that this Republican party centered fascist group planned from the outset to violently suppress "It is better to take aggressive action then no action at all." This appears to be what Donald Trump means by giving protestors "LAW AND ORDER" in his recent tweets.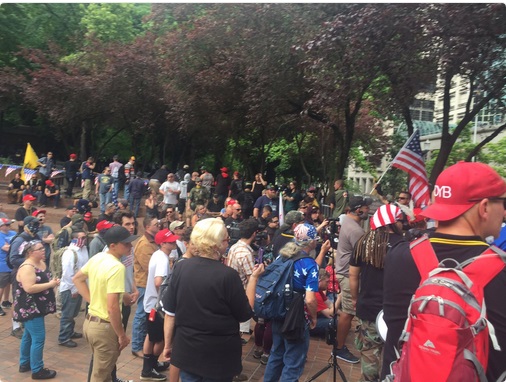 The Patriot Prayer event managed to collect members of the other fascist groups including the so-called Proud Boys. [Editors note: Proud Boys Lawyer Jason Lee Van Dyke sued this publication last year for calling him a Nazi, on the basis that he terms himself a "western chauvinist." The case was dismissed with prejudice.] Counter protestors were not allow to have signs on sticks or banners while the Proud Boys Praying Patriotically were permitted to be armed with sticks, shields, flagpoles and other obvious weapons.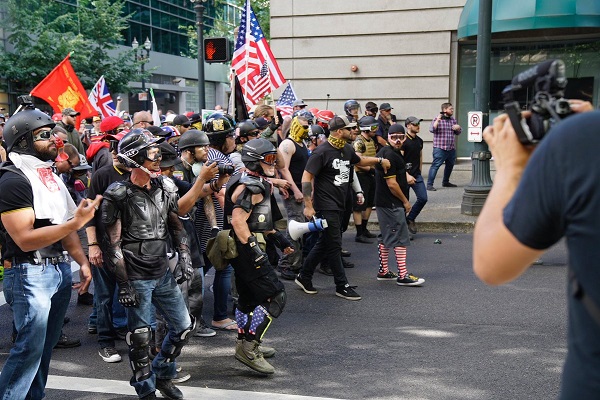 At the first possible moment, Patriot Prayer and their allies evaded the police escort for their march and immediately confronted anti-fascist counter protestors face to face. A brief exchange of words was followed by a more prolonged exchange of injuries. Despite being armed only with their bodies the anti-fascists gained the upper hand in the first exchange. Police then intervened to protect the Proud Patriot Prayer Boys and provided medical attention to their injured members.
The march continued for another two blocks before the fascists slipped away from police again and as counter demonstrators moved to engage they were met by repeated volleys of tear gas and rubber bullets fired by police hiding behind barricades as can be seen in the footage above.
Eventually the counter-protestors got the upper hand again and the police declared the situation to be a riot. Patriot Praying Proud Boys were then escorted by police back to their rally point and were escorted away in buses.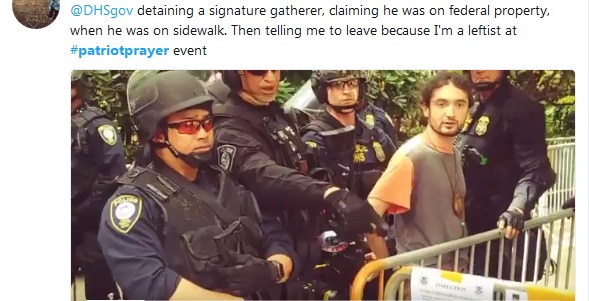 There were arrests on both sides, although the police seemed more interested in arresting antifascists in order to protect the so called free-speech of club wielding armored fascists en route to break up a peaceful protest. Activists are still processing the exact numbers, charges and location of those arrested.
The Mockingbird will publish updates as they are available and can be confirmed.