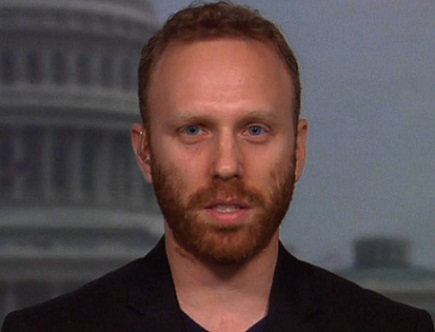 Arrest warrants are not supposed to be political. Either a crime has been committed or one has not. Either there is evidence or there is not. The arrest warrant (Full document is available for download at the end) for Greyzone reporter Max Blumenthal lacks basics evidence, contains manufactured evidence, is false based on eyewitness testimony given exclusively to the Mockingbird.
This did not prevent him from being arrested and interrogated without a lawyer while shackled with his hands to his ankles on a charge of simple assault. This can only be interpreted as a direct attack on the freedom of the press by the intelligence community and the United States Department of Justice.
The thinly alleged incident took place in May of 2019 during the abortive coup against the government of Venezuela. During the US government sponsored coup attempt, the CIA was caught attempting to smuggle weapons into the country. While the coup plotters failed to gain any real support, there was an attempt to close the Venezuelan Embassy in Washington DC and replace it's staff with coup supporting "ex-patriots".
This embassy takeover was thwarted by DC activists lead by the activist group Code Pink. The State Department cut off water and electricity to the Georgetown facility and pro-Venezuela protestors were trapped inside by coup supporters who blockaded attempts to bring those inside the facility food and water. They were supported and guarded by DC Metro Police. This was the context of Max Blumenthal's reporting.
The allegations are that Blumenthal kicked an embassy blockader along with another man who was also "positively identified" yet not named and not arrested. The embassy blockader, Naylet Marisel Adams Pacheco was by her own admission, was "guarding" a parcel of food and water destined for the embassy defenders inside. This was on American soil. Here in America that is called stealing food.
Somehow she managed to get cell phone footage, which was not verified in the warrant nor provided to the judge nor posted to the internet, of the incident. How a 58 year old woman got cell phone footage clear enough to identify anyone while being kicked in the stomach by two men, one of whom weighed 185 pounds, is not clear. The identity of so-called "W-1" or witness one is not clear.
The Mockingbird's sources within the embassy defenders were well acquainted with Adams-Pacheco. During the our interview they identified her as a one of the embassy blockaders who would lightly and clandestinely assault embassy defenders and then call the police if they attempted to brush her hands away. At least one person subjected to this harassment by Adam-Pacheco was on probation for their participation in the protest against Trump inauguration and was detained and would have most certainly been arrested if there was a shred of evidence to support her often made spurious claims.
Attempts to speak with anyone who would identify themselves as Adam-Pacheco or as her husband Randy Adams at either the phone number listed on the police report or other phone numbers associated with the address failed. No voice came on the phone but the background media noise was in the English language despite Adams-Pacheco claiming to need and interpreter in the police report. Witnesses at the event claim that every single embassy blockader spoke perfect English.
All functional phone numbers for the Adams-Pacheco family are in Houston area codes. Her actual address is an apartment in Miami. Previous addresses include a Post office box in Miami (one wonders how a family of four fits into that), another apartment in Miami, a landlord listed as "The estate of Ethel Thomas" and two addresses in suburban Houston. This has all the hallmarks of a person with a fictitious identity.
This is the sum total of the what happened. A person, know to assault protestors while claiming assault claims she was assaulted while stealing food in order to support the takeover of a foreign embassy. She made these claims while concealing the languages she spoke. The police claim to have video that was never produced and a second suspect that has been "positively identified" but never named or arrested.
All of this is in the context of a CIA sponsored coup attempt against the nation whose embassy was illegally under siege while the coup attempt was faltering despite direct arms shipments from the United States using air cargo carriers previously associated with the CIA. That was a mouthful to say and it was a handful to type. Which is why I'm going to shorten it to "bullshit".
Associated Documents:

blumenthal arrest warrant.pdf