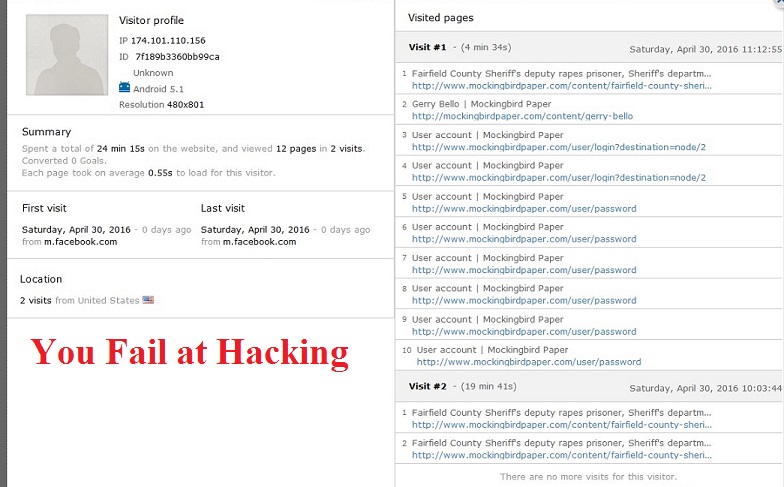 Since the The Mockingbird's first report on rape and other sexual abuse in the Fairfield County County jail and the resultant cover up, the powers that be have pushed back. Despite claiming in an interview with ABC 6 that the investigation was closed, Sheriff Dave Phalen repeated called family members of sources for our story demanding to speak to them within 48 hours of our first publication.
Dave Phalen's responses to ABC reporter Tom Susi's questions demonstrated a complete lack of both truthfulness and compassion for the survivor. He claimed that the survivor did not report the attack in time. False. She reported it straight away. He claimed there was no DNA taken from the clothes. False. When he was finished raping, Deputy Jared Garren ejaculated on a pile of suicide blankets from which samples were taken, as we previously reported. When asked if the story had been reduced to he-said she-said and therefore nothing, Phalen replied "It is what it is." That translates to "I don't care."
Phalen's hounding of witnesses was not the only push back or attempt at censorship. Links to the story were repeatedly removed from at least one public Lancaster community Facebook page. This has happened often enough that posters openly wonder how long new links will remain up.
Competing for the top spot on the hit parade of ham-fisted hilarity were the two pathetic attempts to break into the Mockingbird's server from two different devices at two different locations within an hour of each other on the morning of April 30th. The screenshot provided with this article from the Mockingbird's logs clearly shows the attacker(s) read the article, immediately clicked on my biography, and then repeatedly attempted to log in as me by guessing my password. Apparently they did not read the part of my bio which says "He is a graduate of Antioch College with a degree in Computer Security." I'll translate that into a smaller sentence "You lose."
I mean really guys, who reads that and then tries to manually guess a password? A trained investigative mind might read the second sentence in somebody's bio before attempting to guess their password. One attempt at password hacking came from Chillicothe, the other from Groveport. Both devices made multiple visits to the website and one clicked on the tagged names of the sexually abusive deputies to see what other articles were linked to those names. The Sheriff's deputy who is directly accused of rape, Jared Garren, is reported to live in Chillicothe. This could be considered simply an interesting coincidence.
At the same time that maybe-not-a-sheriff's deputy was trying to get inside my head and guess a password, the Executive Director of Grace Haven, Erica Mergel attempted to reach the Mockingbird. We contacted through her work phone number where she does faith based massage therapy in Pickerington. She eventually called back hoping to refute the fiscal information that was printed in the original article.
Erica Mergel should never bring a scream cannon to a battle of facts. Smaller sentence: "You lose." She began by claiming that Grace Haven "doesn't make any money just donations. I don't know where you are getting this false information." When I replied "Your tax returns for the last three years they were available show a carried forward balance in the five digit range. Are you telling me that the tax returns that you filed with the IRS are false?"
Mergel then claimed that the extra money was spent on salaries. The IRS requires that the salaries of the top five highest paid employees of a non-profit be disclosed on a Form 990. On the three Form 990 that the Mockingbird acquired as a matter of public record only one listed any salary at all. That salary was a mere $15,000, in a year when the carried forward balance was in excess of $43,000. When asked if that form was in error or that salaries had not been properly disclosed, Mergel replied "You don't know how hard it is to run a women's home."
When asked how many women were currently in her program she replied five. According to sources close to this investigation, Grace Haven had only a single client in mid march. When asked how many clients she had at that time she raised her voice to something that sounded like the death screech of the Wicked Witch of the West and ordered me to "NEVER WRITE ABOUT GRACE HAVEN AGAIN." and then abruptly hung up the phone.
Considering the proximity of Mergel's photo and bio on Grave Haven's web page to the founders Lorretta Phalen and her husband Sheriff Dave Phalen, and their close working relationship, Mergel wandered perilously close to the prior restraint line protecting free speech and freedom of the press.
Although the United States is a more dangerous place for reporters than El Salvador and ranks just above Haiti, the staff of the Mockingbird will not be silenced by threats or violence. In the course of this investigation, it has been revealed there are more cases of sexually assault and abuse that the Fairfield County Sheriff is covering up.
Despite investigators in the prosecutor's officer openly fearing for their lives, women are coming forward. The Mockingbird has been contacted by some, and Channel 6 is aware of others. We can not speak for ABC's editorial process, but we will publish the details when the survivors feel safe enough to green light us. Other press outlets are also investigating with our cooperation.
All the truth will come out. We will watch and document as the people of Fairfield County begin to hold those feeding at the public trough accountable.