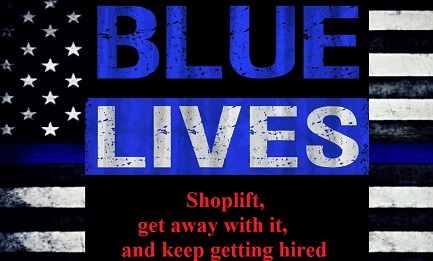 This past October, Yellow Springs Officer Richard Neel was pressured to resign from the Yellow Springs Police Department. It was sketched to look like the YSPD did its job by removing an officer that was found to be unfit for Yellow Spring's expectations. But Neel should never have been hired in the first place.
In March of 2013, Neel was hired on as a guard at the Montgomery County Prison. According to Neel's Montgomery County Sheriff's Office (MCSO) file[1], he was fired in September 2013 for fleeing into the woods from the police after stealing from the Huber Heights Meijer.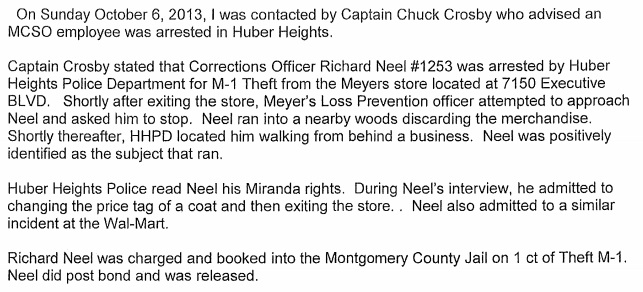 Remember that this was before Hale's appointment to YSPD's interim Chief in 2015.[2]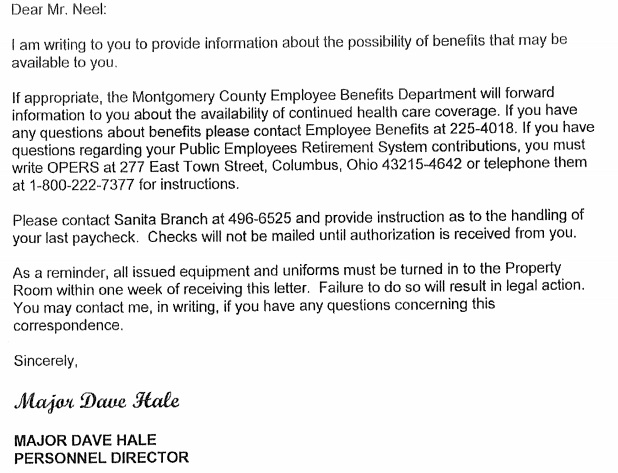 While a coworker from MCSO was listed on Neel's references and his work as a guard for the MCSO was listed on his resume, Neel did not list MCSO on his application.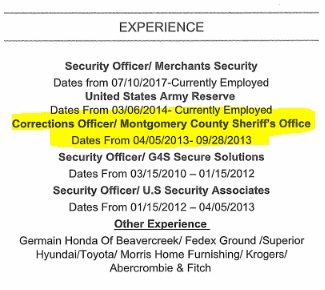 Furthermore, Neel's best reference from the MCSO (Deputy Scott Morgan) was arrested for an OVI[3], that was amended to reckless operation in 2015.[4]
Why was Neel hired? It doesn't seem like the YSPD put much police work put into vetting him.
Most employers won't provide information about past employee's performance for fear of lawsuits[5], so it would be understandable if the YSPD called the MCSO that the MCSO would not state why Neel was no longer working there. But it seems like if contacted it would have been ethical for the MCSO to tell the YSPD that Neel was fired for criminal activity.
When considering hiring Neel, Hale could have been a resource for the YSPD since he worked there at the MCSO during Neel's employment at the same time. Maybe Hale declined to comment, simply desired to have no further association with the YSPD, or was not contacted. [Editor's note: Neel's application was tendered during Hale's time as acting chief, but not acted upon until after Carlson took over the position]
There are no court records available for Neel's theft on the Montgomery County Clerk of Courts website. One would assume a cursory background check must have been performed, but Officer Neel's records may be sealed, therefore the theft and fleeing from the police would not show up.
Maybe Neel didn't know about his reference's OVI/reckless driving. The YSPD doesn't seem to have investigated his references either.
And it's understandable: People deserve a second chance. People make mistakes. No one deserves to be eternally judged for one moment of poor judgement. People are always changing and should be allowed to move on with their lives without being defined forever by a single moment.
Except that the position of a police officer for which Neel was applying carries the privilege of an extremely low threshold for the justifiable use of deadly force. It is unfortunate and ironic when the criminal justice system employs criminals. Anyone who is acting as a police officer ought to be expected to have an unimpeachable court record.
Not someone who pulls over an elderly man for failure to stop after an accident, draws a gun on him, charges them with four misdemeanors[6], causing the "worst day of his life"[7], and possibly killing them with stress a month later.
Not someone who attempts to arrest community members for refusing to tell an officer their name (even after telling them their name)[8] and the only charge leveled being "Obstruction".
And so Officer Neel is reintroduced into the civilian population eligible for law enforcement without any fanfare. As Chief Brian Carlson wrote in an email: "Due to Ofc. Neel's resignation, an Internal Investigation cannot be properly completed as Ofc. Neel no longer has a duty to participate in the proceedings."
"There is no package. Officer Neel resigned on his own accord," Village Manager Patti Bates stated at the October 1st council meeting. "No package" meaning "No deal was offered."
But there was an informal package of sorts offered, which adds clarity as to why grievous errors made by terminated officer do not prevent them from obtaining work in law enforcement elsewhere.
Neel recorded Carlson[9] offering to keep an official letter of termination of employment out of Neel's personnel file which presumably included the reason why he was let go--if YSPD letters of firing are like the MCSO's letters of termination. (It is possible that Bates did not know about this offer.)
This offer and these circumstances go a way towards explaining paperwork gaps at the YSPD, who has control over the records, and why--assuming other police departments function like the YSPD--abusive officers float from job to job. Which is concerning in its own right.
But at the end of the day, it also demonstrates a deep failure on the leadership's part in hiring new officers. What other officers were hired without the appropriate checks or recognizing their unsuitability for the job? How many of them are top leadership - the very people who make the hiring decisions now.
Footnotes
[1] Personnel file of Richard Neel from the Montgomery County Sheriff's Office and police reports of his theft, https://drive.google.com/open?id=0B8rzCeCzEPkvblYzYjdEUC1GTFRUNlBraFdIWUJDT0RTVjNv [2] "Hale the new police chief" by Lauren Heaton, https://ysnews.com/news/2015/01/hale-the-new-police-chief
[3]"Deputy denies charge of drunken driving" by Breaking News Staff, April 7th 2015, https://www.daytondailynews.com/news/crime--law/deputy-denies-charge-drunken-driving/YzjoL1ExCbhzZKpYMboSbO/
[4] Dayton Municipal Court, Case Summary 2015-TRC-003679, http://www.daytonclerk.org/PA/TCCaseSummary.cfm?cid=ekFwdVlqZ09kOFU9
[5] "Ask HR: What can a potential employer ask a former employer? How about a health condition?" by Johnny C. Taylor, September 11, 2018, https://www.usatoday.com/story/money/careers/employment-trends/2018/09/11/ask-hr-can-potential-employer-ask-former-employer-why-left/1257889002/
[6]"Village Council - Officer resigns amid concerns" by Megan Bachman, October 11, 2018, https://ysnews.com/news/2018/10/village-council-officer-resigns-amid-concerns
[7]"James Whitman Agna" by YS News Staff, November 15, 2018, https://ysnews.com/news/2018/11/james-whitman-agna
[8]https://youtu.be/_oXjC3J1asE?t=1099
[9]"Yellow Springs officer says he recorded police chief: 'I'm not forcing your hand here'", by Richard Wilson, October 3rd, 2018, https://www.daytondailynews.com/news/local/recording-yellow-springs-police-chief-tells-officer-not-forcing-your-hand-here/yUPWVdudBVc8U7klMVmAfO/