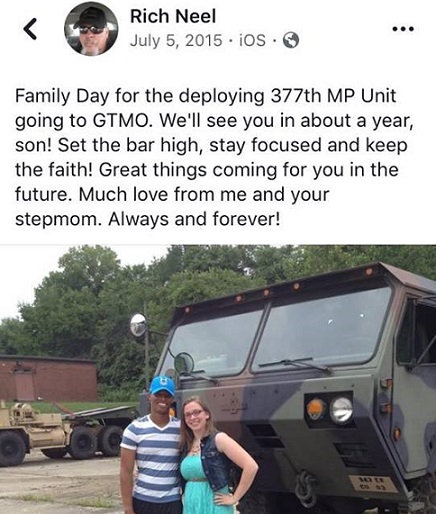 Officer Neel resigned the night of Monday October 1st. His resignation was announced moments before a Village Council meeting where multiple instances of excessive force and false charging were going to be discussed by angry Village residents regardless of the desires of the Village government. Officer Neel was still on hiring probation and thus could be dismissed without recourse or cause at the sole discretion of Chief Carlson, if the latter was not on vacation again. This is not a matter of his being allowed to resign in lieu of termination, as he had no recourse. Thus he will continue on his career in so-called law enforcement, as most of his experience is in beating prisoners in secret military prisons.
Neel seemed to be bringing his overseas military experience to the streets of Yellow Springs, where he has protected the Village from terrorism by drawing his service weapon on a 92 year old retired doctor in their own yard for a rolling stop on a side street and beating and arresting bar patrons for public drunkenness as soon as the bar closes.
Neel is an army reservist serving with the 377th Military Police Company. The role of Private First Class Neel was as a member of the Alpha Serious Incident Response Team. In practice this means that when he is deployed to Guantanamo Bay, as he was in 2015, he beats and force feeds hunger strikers. Neel is used to working where there is no law but the club he wields against the heads of men starving themselves for decades in the hopes of getting an actual trial. This is what law enforcement means to him and this is how he serves justice when not threatening to shoot doctors in their own homes.
Perhaps he resigned to avoid the disclosure and discussion of this and so that he can get a job in another community threatening other doctors. Only four people in Yellow Springs had a say in his hiring, and that would be the chief, both sergeants and the Village Manager, Patti Bates. Bates, who has been dragging her feet in providing video and other documents relating to Neel and other cases, is collecting retirement money from the prison she was a warden at before working as Village Manager. She hopes to be collecting her second retirement soon at the expense of the village. If anyone knows how to cover up abuse, it's a career prison administrator.
Bates is only involved in hiring if she wishes to be. The responsibility to find Neel's unit and its history, which took this reporter three minutes, would fall to the senior staff of the police department, including IT expert Sgt Josh Knapp who has taken special courses in running background checks and prides himself on it. Sgt Watson has completed the same course work, but does not pridefully place this alongside her other achievements, like smacking cameras out of the hands of reporters while arresting them.
The Guantanamo Bay force feeding field trip was not the first frolic the 377th has had on the frontier. During the initial parts of the occupation of Afghanistan, the unit was deployed to Bagram Air Base, where they killed at least two detainees during torture. Ten members of the unit were charged, charges against all but two were dropped or reduced to dereliction of duty. They were prosecuted for beating people to death as opposed to half to death. This is where Yellow Springs draws it's officers from.
Officer Neel trained under officer Charles and Corporal Beam. For his first week on the job, he was trained under then Corporal Meister, who was demoted and threatened with firing for excessive leniency as opposed to being a government sponsored torturer. Officer Meister is no longer permitted to train new officers, despite being the longest serving full time officer on the force, but must be retrained to decrease his humanity directly under Chief Carlson, who hired Neel without looking up his record.
Perhaps Neel's military record did come into the closed door interview. His penchant for violence is well known. When asked how he was doing at the most recent street fair he was overheard saying "I'd be better if I was kicking someones ass." in front of at least one officer and at least one dispatcher while in a crowd. Other sources in village government have heard him express similar sadistic sentiments in more private settings and reported it to this publication.
Perhaps Neel was the new officer for the new Yellow Springs that the Village government needs to compliment it's other public servants and their morals. This is after all a new America. A child born the day the 377th Military Police Company was first reported to have beaten a prisoner to death would now be old enough to be raped in Yellow Springs High School by the principal's son and have it investigated leading to no jail time by Sgt Watson who hired Officer Neel. Yellow Springs is now fully American in every way.