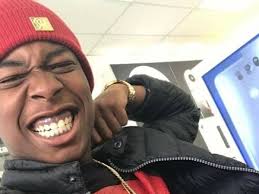 The is no good reason for me to know the name Julius Tate Jr. There is one bad reason. Julius Tate Jr. was a teenager out with his girlfriend in his own neighborhood. He was a young guy enjoying his life and I am some older guy that lives alone and writes detailed articles on technology and surveillance. He had excited young people things to be doing and I have boring old nerd guy stuff to be forever behind on. He will never know my name because the life he was enjoying was ended by a Columbus SWAT officer without warning while he was unarmed and accused of no crime. This is the bad reason I that now I #SAYHISNAME.
Activists from the Columbus Freedom Coalition went to say his name to Mayor Andy Ginther. Two of them, Mia Santiago and Dkéama Alexis were arrested. This was at a ritual Martin Luther King Jr. event that politicians go to once a year to be ritual recorded making ritual promises about something while mouthing vague platitudes. As can be seen from the video at the recording (scraped from youtube before the chronic complaint trolls from the police union find a way to take it down. Original here https://youtu.be/KpncNcD6apA) all they said was Julius Tate's name.
Rather than address the murder of Jullius Tate Jr. or the subsequent prosecution of his girlfriend Masonique Saunders for seeing him die and telling the truth about it Mayor Ginther tried to use big white guy on stage authority. Ginther, who has appeared in the past to be having an extra-marital affair with his college buddy turned campaign manager, to take time out of the Martin Luther King Jr. Community Breakfast, felt the need to scold the activists of color who were protesting white policemen shooting a black teenager.
The Mayor's office doubled down on in a subsequent message "Civil Disobedience has long been the a strategy use to amplify the voices of people who fell unheard." Really Andy? Is water still wet? "Today and every day it is important to defend the right to protest" This is bland sentence that says the exact opposite of what Ginther just did. "We must not dismiss the voices of those with different perspectives than our own even when we disagree." There he admits disagreeing with the voices he is apparently referring to after he dismissed them right off to jail. "Police were asked to remove protestors this morning and they did their job." Here he uses passive language in an attempt to distract from the fact that HE himself asked for the police to remove the protestors. "The conversation should not focus on this single protest, but the on the truth that unites us and our shared obligation to close the divide between communities of color and police." Mayor Ginther believes he has the right to decide what people should focus on. This single protest had a focus and that focus was Julius Tate Jr. He wants us to unite around a "truth", which he does not actually speak, yet portrays all other things as "perspectives" that "we disagree" with. The next little sleight of tongue is that we have a "shared obligation to close the divide the between communities of color and police." This language causes the police to somehow suddenly be an equally aggrieved party in a non-situation that we should not focus on that is about "feelings" and "perspectives." The divide got closed when the activists of from communities of color were closed in a jail cell and Julius's Tate's perspective is from the afterlife.
As a former stagehand who has worked in the Greater Columbus Convention Center and other similar Biggest Convention Center in the Whole State-type facilities, I guess the total cost of the even that the Mayor was using to scold black people on Martin Luther King Day was around $80-$100,000 worth of oligarch authority on prominent display. Apparently they did not spring for the Not-the-Worst-Optics-Ever package.
This is not the first protest over the killing of Julius Tate Jr. and the railroading of Masonique Saunders. This is not even the first time there have been arrests. Dragging limp protestors out is not the worst that the police have dished out on this particular issue. Both activists were dragged out the cold without coats, help outside, kept without needed medication (including asthma inhalers) and later released.
The Activists appear to have additional things to say. They are having a meeting on January 26th to plan some other event that Andy Ginther will likely say something equals as empty and twisted as his last utterance. They have publicly asked people to continue to uplift Julius Tate Jr. and have directed people to his family's gofundme. The Mockingbird will continue to follow this case.