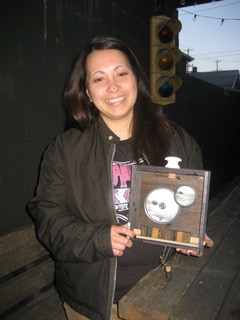 Aina Turiaga (prononuced 'I nah. Tour e ah gah.') was born in the Philippines and immigrated to the United States when she was age 18 as the much anticipated result of a petition put forth by her family back in the 1970s came to fruition. With a beginning in sewing and crafting in textiles, to learning and playing with darkroom photography, Aina now defines herself as a visual artist in mixed media. She will be returning to the darkroom for her solo show in October at Rehab Tavern which is expected to be an exciting show.
Aina Turiaga is a artist in Columbus Ohio and a stay-at-home mom with a home based studio. Photography is something that She's always been interested in, but didn't get the chance to explore until a few years after high school. She took a black and white photography class at Columbus State in 1998 to get familiarized with a 35mm camera and learned how to develop and print her own photos.
She fell in love with the process, seeing images appear for the first time. Currently, She does everything in her phone, from capturing images to photoshop and social media. She creates mixed-media assemblages which include her photos, drawings and collages. Lately, She has also been interested in painting with watercolor and acrylic.
Aina has been bravely showing her work since 2011 and credits much of her success in growing as an artist to being an active member of the local CapCity Creatives artist group. She is also very involved as an exhibiting artist and+ volunteer at the ever-growing Big Local Arts Tent at both The Independent's Day Festival in East Franklinton and The Columbus Arts Festival down along the Scioto River.
It was Tuesday evening, March 29 sometime after 7:00 and the sun was just starting to set in front of me. The way its rays bounced so boldly through the metal overpass beams of the train tracks was mesmerizing. I watched as I walked across the grassy field on my way over to the Rehab Tavern in Franklinton for my meeting with Aina.
I was a little late, per usual, so she was already there practicing her pool game. We said our hellos, got drinks, and decided to step outside on the enclosed wooden patio for our interview.
I was happy to see that Aina had three pieces of artwork with her: Hail to the Moon, Daydream, and Dreaming.
I prefer to have an artist discuss their work with me while it is in their very own hands. I think this helps them remember, in the most efficient way possible, just how they felt when they were making the work and what it meant to them at the time, and maybe even how that idea has changed over time.
I first met Aina 2 or 3 years ago on the very same patio when Cap City Creatives was having an anniversary event and displaying their member's work in celebration. On that day, they had quite an impressive and varied collection of visual artwork that I truly enjoyed looking over. By specifically admiring Ania's digital photography mixed media work + expressing so to a friend, I soon was introduced to the rather shy artist, herself. I have since run into her at many local art events and have even become a bit of an art patron in buying up some of her works. I happily now own the 'Hail to the Moon' piece.
And that quiet shyness of hers is one very important reason why this interview is so important to me. For I am also a rather quiet and shy artist in the world of Columbus, Ohio who struggles to take the necessary step to be exposed rather raw and vulnerable into the world by those who happen to view our often very personal + what we see as revealing artwork. A completely terrifying proposition for those like us.
It was really great to sit down with Aina in this way and to able to ask her so many questions without being considered nosy or prising. The permission given + magic received in a one-to-one interview is + always will be just as pop artist Andy Warhol said in the founding of his magazine 'Interview' in 1969, "Everyone in the future will be world- famous for 15 minutes." I dare you to be inspired and watch this… youtube.com/watch?v=0BErjRu-W_k - put together by iPerceptive.
Until next time… Support Local Artists. You need each other. More than you know.
_______
Half_Exposed Studio, art by aiNa TuRiago.
BLOG. halfexposedstudio.blogspot.com
INSTAGRAM. instagram.com/half_exposed_studio
ETSY. https://www.etsy.com/shop/redrabbitmushroom
EMAIL. redrabbitmushroom@gmail.com